First Off-Roaders with 4x4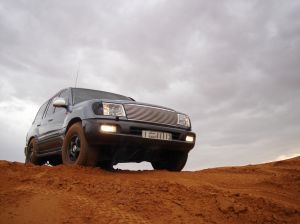 The first off-roaders with 4x4 were introduced by the USSR car manufacturer GAZ in the late 1930s. But the key role in their later popularity played the Second World War as it was the war-era 4x4 military vehicles that inspired the later 'civilian' versions.
GAZ- 64. The successor of the first four-wheel drive vehicle by GAZ was basically a reconstruction of its predecessor. It was produced between 1941 and mid-1942 when the USSR car manufacturer introduced GAZ-67 that is considered a Soviet counterpart of the war-era Willys Jeep.

Willys MB. One of the most iconic 4x4 vehicles was produced by Willys for the U.S. Army during the Second World War, more precisely from 1941 to 1945. After the end of war, the Willys MB served as a model for the civilian CJ counterpart and inspired a number of light utility vehicles around the world.

Willys CJ (also known as Jeep CJ). Probably one of the most famous off-roaders with 4x4 for civilian use was inspired by its military counterpart, the Willys MB. The first prototype was presented in 1944 and inspired the later variants that remained in production until the mid-1980s.

Dodge Power Wagon. Just like the civilian off-roaders were inspired by the war-era military utility 4x4 vehicles, the Dodge Power Wagon was inspired by 4x4 military trucks that were produced during the Second World War. The 4x4 light truck was produced from the end of the war until 1980s and inspired many other 4x4 trucks, many of which can be still seen both on and off road.

Ford F-Series. In 1948, Ford Motor Company introduced its F-Series of full-size pickup trucks which remain the most popular four-wheel drive trucks of their kind to the present day. The most popular model of the series - the F-150 - has been the best selling vehicle in the United States for more than three decades and the best selling pickup truck for more than four decades.

Land Rover Series I. The British car manufacturer joined the off-road vehicle brands in 1948 when it presented the Series I which, similarly as other 4x4s in the category, was inspired by the U.S. Army military Jeep. The Series I were followed by Series II and Series III, both of which were popular for their robustness not only in Britain but many other countries too, especially those with rough terrains.

Alfa Romeo Matta. Two versions were built - AR51 and AR52 - with the former being intended for the Italian Army and the latter for civilian use. It was produced between 1951 and 1954 when it was largely replaced by the Fiat Campagnola, the production of which started in 1951 as well.