First Passenger Cars with 4x4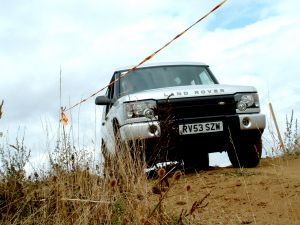 While civilian 4x4 vehicles were available as early as late 1930s, the first passenger cars with four-wheel drive were introduced relatively late. The first 4x4 car resembling an ordinary passenger car was the Jeep Wagoneer that was launched in 1963. However, the first 4x4 non all-terrain car was produced only in 1966 - the Jensen FF. Our overview of the first passenger cars with 4x4 therefore begins with this British icon.
Jensen FF. In addition to being the first non all-terrain car featuring four-wheel drive, the Jensen FF is also remembered for featuring highly innovative technology including an anti-lock braking system. However, it wasn't particularly successful, largely due to its relatively high price in comparison to a very similar Jensen Interceptor as well as to other Grand Tourer in its class.

Subaru Leone. Successor of the Subaru 1000 and predecessor of the Subaru Impreza was the first 4x4 passenger car by this Japanese car manufacturer. It was produced from 1971 and 1994, while four-wheel drive was optional.

AMC Eagle. This compact-size passenger car with four-wheel drive became the first U.S. 4x4 passenger car although it can also be classified as crossover SUV. In addition to being equipped with four-wheel drive, the AMC Eagle also stood out with its affordable price and innovative design. It was produced between 1979 and 1987.

Audi Quattro. The German car maker Audi presented its first four-wheel passenger car only in 1980, almost 15 years after the launch of the Jensen FF. However, it was commercially a lot more successful and continued to be produced until 1991. It was named 'Quattro' (Italian for 'four') to indicate that it is a four-wheel drive vehicle.

Renault 18 Combi 4x4. Launched in 1982, the Renault 18 Combi 4x4 was one of the Renault 18 series which became commercially available in 1978. Just like other versions in the series, Combi 4x4 was a large family car.

FIAT Panda. One of the most successful city cars was launched in 1980, while the four-wheel drive version was launched three years later. It has been produced uninterruptedly ever since; currently, the third generation is available.

Alfa Romeo 33 4x4. The four-wheel drive version of the Alfa Romeo 33 was launched one year after the introduction of its front-engine and front-wheel drive counterpart in 1983. It continued to be produced until 1995 but went through two 'facelifts' in the meantime.

Volkswagen Passat. One of the best selling Volkswagen family cars was launched as early as 1973 but the four-wheel drive version called the Syncro was introduced only in 1984 and was initially available only with a five-cylinder engine.