Four-Wheel Drive - A Brief History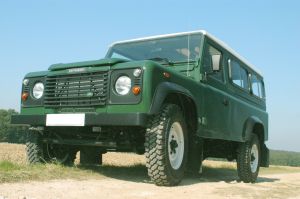 Development of the Four-Wheel Drive System
History of the four-wheel drive predates the modern automotive industry. In the early 1890s, British inventor Bramah Joseph Diplock obtained a patent for four-wheel drive system but for a locomotive (traction engine) rather than a car. Nevertheless, the automobile industry soon caught up. At the turn of the century, four-wheel system was included in Ferdinand Porsche's Lohner-Porsche which is regarded as the first hybrid vehicle as it included a battery-powered electric hub motor at all four wheels. It was presented as early as 1900 at the World Exhibition in Paris. However, the first four-wheel drive automobile is credited to the Dutch car maker Spyker (Spijker).
From the Early 20th Century to the End of the Second World War
In 1903, brothers Jacobus and Hendrik-Jan Spijker presented what came to be regarded as the first four-wheel drive car - the Spyker 60 H.P., a two-seat racer car which was also the first car with a six-cylinder engine. Only one Spyker 60 H.P. survived to this day and can be seen in the Louwman Museum in The Hague.
Other car manufacturers soon followed the example of the Spijker brothers but the four-wheel drive vehicles remained out of reach to the civilian use. The first four-wheel drive car was made by the USSR car manufacturer GAZ. In 1938, it launched the GAZ-61, the first four-wheel closed-sedan body vehicle which, however, was almost exclusively used by the military and the USSR government.
The Post-War Period
Four-wheel drive cars as we know them today really took off only after the end of the Second World War. In 1945, Willys (Jeep's owner since 1950) launched the CJ-2A, the first four-wheel car for the general market. It looked pretty much like the Willys MB that was produced for the U.S. Army during the Second World War.
Another major turning point in the history of four-wheel drive vehicles was the launch of the Land Rover Series I that was first presented to the public at the Amsterdam Motor Show in 1948. Just like the Willys CJ-2A, the Series I was inspired by the Second World War military four-wheel vehicles and just like the CJ-2A, it was originally designed for agricultural and industrial use.
Perhaps the key event in history of four-wheel vehicles was the introduction of the Wagoneer by Kaiser Jeep in 1963. The predecessor of SUV was also the first four-wheel vehicle to look and feel like an ordinary passenger car.